The Motify Experience Monitor© is a system designed to monitor and improve customer and guest experience. Because at Motify we specialise in experience, we know what questions to ask in order to get the answers that you, as a client, can really do something about. The Motify Experience Monitor© therefore not only shows how an attraction, location, product or event is scored, but also provides insight into the reasons behind this score.
How does it work?
The Motify Experience Monitor© consists of high-quality tablets which attract the attention of customers or guests. These tablets are placed at strategic points in an area so we can measure real-time experiences. Reactions are therefore honest and pure. In addition, the Motify Experience Monitor© enables ongoing research. This allows you to make adjustments at an early stage and provides a relatively quick insight into the effects of the adjustments.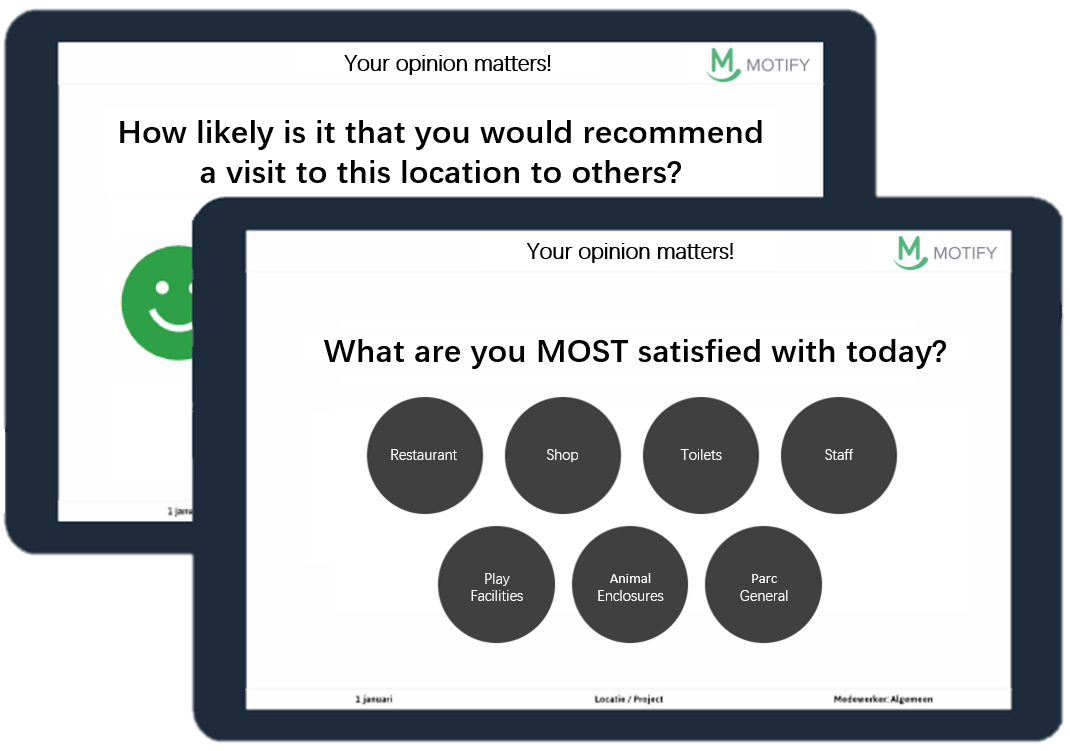 The questionnaire used contains 3 to 8 questions. which can be controlled remotely online by the client via a personal account. This account contains pre-programmed categories with validated question sets and answer options. Questions can be turned on or off with the push of a button. Questions can be answered by means of smileys, report figures or written answers. In addition, it is possible to ask open-ended questions and, for example, collect postcodes and e-mail addresses.
The results, which arise from the use of the system, are live and directly visible through a Business Intelligence environment. In addition, this dashboard offers the possibility to compare results over different periods of time.
Relevance Guarentee
Motify's products are permanently active and remain relevant to your organisation even under changing circumstances. Results from the Motify Experience Monitor© provide insight into the current state of affairs with respect to customer and guest experience. Based on this, any adjustments can be made and the results are almost immediately visible again in the new data. This ensures continuous monitoring of the development of your organisation. In addition, the questions on the Motify Experience Monitor© can be continuously adjusted and replaced , which makes in-depth information possible.